Top 6 Questions About Powder Brows Answered
Powder brows, also known as ombre brows or ombre powder brows, is a permanent eyebrow technique that creates a soft, powdered look that subtly fills in your brows. It can be done with different gradients of softness.
Let's take a look at some of the top questions I have answered to my clients.
6 Questions About Powder Brows
How long do powder brows last?
Powder brows will last between one to three years depending on your skin type and sun exposure.
How much does it cost?
The average price of powder brow treatment is $495. However, it can be much higher, and, of course, you can find it for less.
I absolutely love my eyebrows! I asked myself why I waited so long to get them done. Waking up for work and not having to do my eyebrows is such a time saver. Tammy is amazing at what she does. I won't go anywhere else, I do believe she is the best. Her Bio alone says it all! Thanks Tammy! See you for my touch-up.

Eveonia
Are powder brows better than microblading?
Powder Brows, results in the soft fluffy filled in brow appearance. Microblading is best for you if you have some hair and prefer a more natural hair stroke look. However, if you have no brows or you prefer a more defined brow, Powder Brows are your best bet!
Are ombre brows worth it?
Powder brows are great for people who already have full brows or no brows, but just want a little extra definition and an enhanced shape, without the hassle of filling in the brows every day. It's also the preferred technique for people with oily skin, as it typically lasts longer than microblading.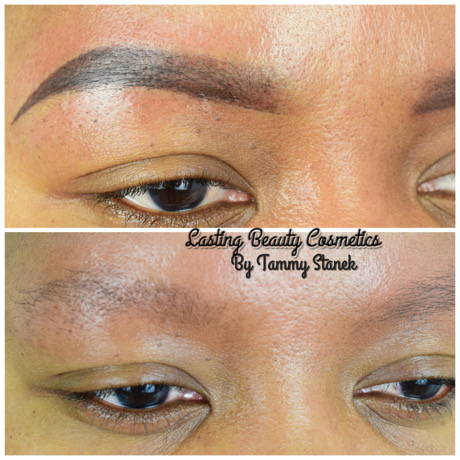 Do powder brows look natural?
Powder brows also known as Ombré brows are great for all skin types, While powder brows have a more "filled-in" look, the healed results appear like softly shaded brow pencil or powder giving your brows a fluffy look.
Are powder brows a tattoo?
Powder Brows are a form of tattooing, but it is different from the traditional method. It is a more modern technique brushing the surface of the skin just on the top of the dermal layer of skin.