Microblading For Alopecia: Should I Go For It?
Many people are wondering if should choose microblading for Alopecia. Many things can trigger loss of hair in men and women, such as excessive stress, vitamin deficiencies, and underlying medical conditions. Alopecia areata is one the most difficult to tackle as it is considered incurable. Affecting both men and women, living with this condition can be emotionally challenging and frustrating as it significantly alters one's physical appearance.
Hair is a big deal in cultures around the world. Since there is so much importance given on how we look, a person's self-confidence levels can go down if their hair starts to thin or fall out. In such cases, interventions such as wearing wigs and scalp pigmentation can help one to feel more confident. However, alopecia areata doesn't just cause hair to fall out. If someone suffers from this autoimmune condition, then their eyebrows are also often impacted.
Microblading For Alopecia
There is no reason why alopecia areata should stop you from painting the town red and feeling your best! If you want your perfectly-shaped natural eyebrows, we're here with options for you: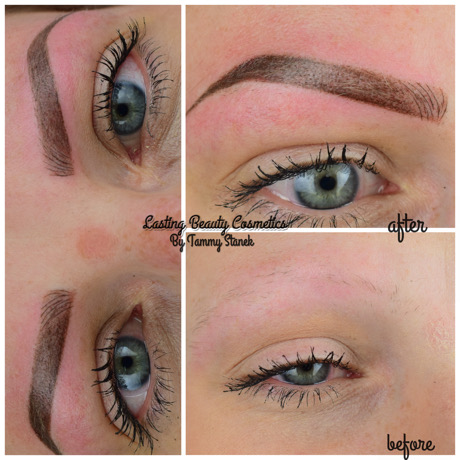 Using Makeup
This is, of course, the first thought that will come to you when you are considering filling in your eyebrows. Choosing the shape you want first thing in the morning can feel empowering. However, for many people who are on-the-go this might prove to be extremely cumbersome. Applying eyebrow makeup requires regular touchups throughout the day. Those who have an active lifestyle and love working out or swimming might not find it suitable as makeup is prone to get washed out.
I absolutely love my eyebrows! I asked myself why I waited so long to get them done. Waking up for work and not having to do my eyebrows is such a time saver. Tammy is amazing at what she does. I won't go anywhere else, I do believe she is the best. Her Bio alone says it all! Thanks Tammy! See you for my touch-up.

Eveonia
Microblading
If you desire a long-term solution, then consider microblading your eyebrows. The procedure consists of a handheld device that implants pigment into the top layer of your dermis to compliment your complexion and hair color. The needles that are used are three times smaller than needles used for tattooing; so pain is minimal — similar to heavy plucking. What you will end up with are fine, fantastic strokes that mimic the appearance of fabulous natural-looking eyebrows!
If you are looking to create the illusion of thicker, angular, natural-looking eyebrows that will not rub off, then microblading is the way to go. Make sure that you choose an experienced microblading professional like Lasting Beauty Cosmetics for microblading for alopecia areata treatment in Madison.